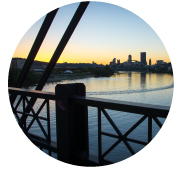 The South Side neighborhood can be considered Pittsburgh's playground; home to everything from bike trails, riverfront parks, and boat docks to dance clubs, galleries and theater, and 3030 South Water Apartments is close enough to enjoy everything the neighborhood has to offer, but far enough from the action to afford its residents with a place to relax and enjoy the peace.


3030 South Water Apartments' tranquil, riverfront setting affords its residents a unique place of their own to relax and enjoy the peace while being conveniently close to the excitement of the South Side neighborhood and the SouthSide Works development. We're convinced that with just a turn off the Hot Metal Street bridge onto South Water Street, you'll quickly realize this is a place you'll want to call home.

Sit out on your balcony and watch the river flow by, or hop on your bike and let the trail take you as far as you want to go. The Three Rivers Heritage Trail, directly across from 3030 South Water, links SouthSide Works to downtown Pittsburgh (2.7 miles) and to the Station Square entertainment center (2.5 miles) and is part of the city's larger trail network that connects the South Side to other Pittsburgh destinations such as the Strip District and the North Shore. This 24 mile trail can take you around Pittsburgh or connect you to the Great American Passage which links to further destinations like the Laurel Highlands and Washington, D.C.
Ready for some action? 3030 South Water Apartments is walking distance from an amazing selection of shopping, dining, music, cafes and services to suit any taste. Dine with your friends al fresco in the summer or meet up for a cozy cup of coffee in the winter. Dance the evening away or catch a band at one of the many local pubs. You're bound to enjoy to entertainment options Pittsburgh's South Side can offer you.
3030 South Water Apartment's suitable location allows our residents to have a healthy balance of work and play by reducing their commute time. Located less than 2 miles from the heart of Oakland and 3 miles from Downtown, it's no time by car, bus, bike or feet to get to and from work or school. The SouthSide Works development itself, in which 3030 South Water Apartments is located, contains over 700,000 square feet of class A office space including the FBI regional field offices, UPMC sports medicine, the Pittsburgh Steelers training facility and American Eagle headquarters to name just a few. And, don't forget, those same trails you enjoy for exercise and recreation can take you there quickly!